1965 Sting Ray: The First Big-Block Corvette

The 1965 Sting Ray marked the third year of "C2" production. All models were manufactured at GM's St. Louis Assembly. 1965 was the first year a big-block engine would find its way between the fenderwells of a Corvette, in the form of a Mark IV 396 generating 425 horsepower. Styling changes included removing the hood depressions that were common to the 1963 and '64 models. The horizontal grille bars were now black with the outer grille trim remaining bright – this made the '65's grille one of a kind. Also, the front fender "gills" now sported three functional, vertical slots.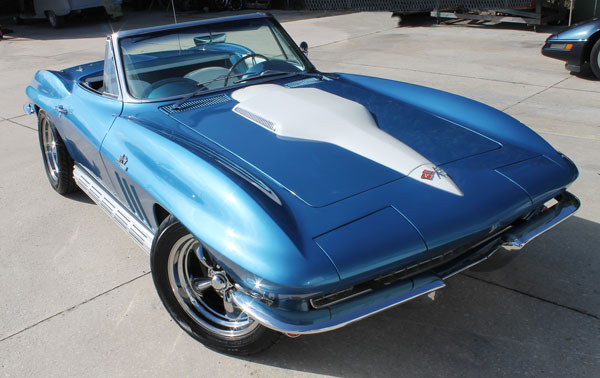 Just the Facts

Base price: $4,321.00 (Coupe), $4,106.00 (Convertible)

Power: The vaunted 327 provided standard motivation for 1965. This motor however, was available in multiple power configurations. Depending on whether the car was manual or automatic transmission-equipped, had air conditioning, came with a Carter or Holley carburetor, or had transistorized ignition, the 327 was rated at either 250, 300, 350, 365, or 375 horsepower. Optional this year was the 396 cubic-inch Mark IV big-block (available with a manual transmission only) that pumped out 425 horsepower.
1965 Sting Ray production included 8,186 coupes and 15,378 convertibles, for a total model year run of 23,564 units.

Corvettes equipped with the big-block 396 featured a new hood design with an exaggerated bulge in the middle.

Four-wheel disc brakes became standard equipment for '65, utilizing 4-piston caliper assemblies at each wheel. Even though discs all around were included in the car's base price, drum brakes could still be had as a credit option ($64.50) if so desired.

Optional cast aluminum "knock off" wheels were painted dark gray between the fins. These wheels were an expensive option at $322.80.
On the inside, instruments were revised with new flat black faces. The area around the radio and speaker bezel was now painted (previously vinyl-covered).

A new seat designed debuted in '65 that was slightly larger and more supportive. Inner door panels were also new and featured integrated arm rests.

Corvette's first power antenna was standard equipment.

1965 Colors

Tuxedo Black, Ermine White, Nassau Blue, Glen Green, Milano Maroon, Silver Pearl, Rally Red and Goldenwood Yellow.



About this car

I purchased my 1965 Sting Ray in January of 2012 from Corvette Shops and Supply in Tampa, FL. The body had just been sanded and the frame was 90% finished. The engine had been removed and set aside. I had the body and frame delivered to Altieri's Body Shop in Largo, FL. We soon determined not much was salvageable, so most parts were purchased from Eckler's and other sources. The engine was brought back to Merritt Island and totally restored. Two years and $96,000 later, the car was finished. I completed some minor details, then it was off to the car shows!

–Ed Gigliotti



Shop for Corvette parts at www.EcklersCorvette.com

Follow us on our Corvette Facebook page. Click here and Like us!